TofScan is een 'train-of-four'-monitor, waarmee de neuromusculaire junctie objectief bewaakt kan worden middels acceleromyografie (AMG).
TofScan NMT monitor
The TofScan is a Train-of-Four monitor which enables objective monitoring of the neuromuscular junction using Acceleromyography (AMG). This widespread technique provides a reliable measurement of evoked muscle responses. The operator can obtain objective measurements for the main stimuli used. Its three-dimensional accelerometer allows a complete and accurate measurement of thumb movements while avoiding the necessity for sensor calibration.
The sensor is ergonomically designed for intuitive and optimal positioning throughout the monitoring period. This factor, whilst providing reliable measurements also facilitates the task of setting up the sensor. 
In spite of the inherent technology, the TofScan is a simple device to use. Since the device operates on batteries as well as with the AC power supply it can be set up without the need for a power cable and easily moved into place. Its fixing clamp allows optimal positioning on a standing pole and reduces the risk of breakage.
The screen shape and single button selection have been designed with simplicity and ergonomics in mind. And although the TofScan enables a simple and objective monitoring of the neuromuscular junction, it is designed as an operational medical device to be tough, reliable and practical.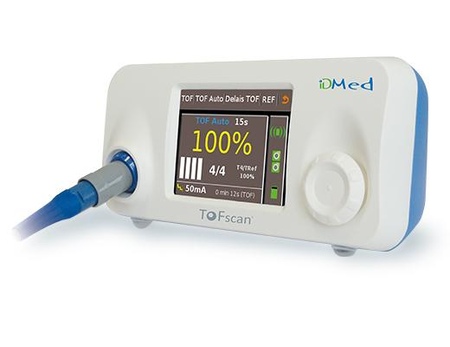 Stimulation
TOF programmable (15s.-15min.)
PTC (Post Tetanic Count), TOF+PTC
DBS (Double Burst) (3,3)  (3,2)  (2,3)
ST (Single Twitch) 0.1Hz and 1Hz
Recording of a reference TOF
Numeric Measurements (3D accelerometer)
PTC : Number of responses detected
Ergonomic design
Three-dimensional accelerometer sensor
Adjustable stimulation current (20-60mA)
Operates on batteries (3 months charge) or with AC power supply
Audible messages (can be switched off)
Clear display of information for immediate use