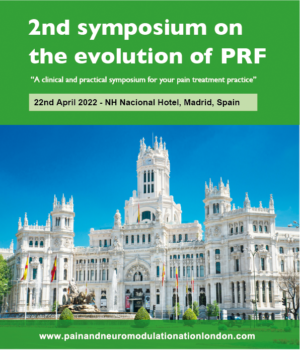 2nd International Evolution of PRF Symposium 2022 *New Date*
"A Clinical and Practical Symposium for your Pain Treatment Practice"
The second International Symposium on the Evolution of Pulsed Radiofrequency of London Pain Forum and Wazir Medical Events is scheduled for 22 April 2022. Leading experts in the field, including Prof. Menno Sluijter and Dr. Olav Rohof will be speaking at the meeting. Of course, the Pain Product Specialists of Equip will be present at this educational event as well.
Venue: NH Nacional Hotel, Madrid
Note: *Rescheduled from its earlier dates of 26 June 2020 and the 9th of April 2021.*
Find a time table and rates in the flyer of the event. Additional information may be found on the Pain and Neuromodulation's official page.